The mission of the Sartell Senior Connection is to enhance the quality of life for senior citizens by planning and providing programs based on social, creative, educational and physical needs.
Welcome to the SSC Website!
Bill Meierhofer speaking to Members at C & C.

The Travel Talkn' Guys really travel.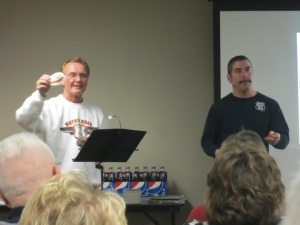 The Travel Talkn' Guys speaking to Members of the SSC.
The main entrance for Seniors is West Entrance # 2. Be sure to go to Community Education to sign in as you enter.
Welcome to Sartell Senior Connection!
Would you like to be on the Sartell Senior Connection Board to provide any new ideas, activities, skills for the SSC Members? If so there are four members that have their three consecutive terms completed and must now take a one year break. On the Contact page there is some information along with the Board Application form for you to apply to be a Board Member.
Activities of the Sartell Senior Connection (SSC) are open to
* Persons of any age
* Persons from any area
There is no membership fee to participate in most SSC activities
When you have some casual time, come meet others or reunite with old friends ! Enjoy a cup of coffee, browse, read, visit!
* Community Sharing Library
* Summertime Bike & Hike
* Gymnasium Use
* Walking
* Swimming
* Pot Luck Dinners
* Day Trips
* Recycled cards, bookmarks, giftbags available for a donation
* Coffee & Conversation
* Trivia night
* Tuesday Lunch and Farkle
* Wednesday Crafters
* The 500 Club
* Poker
* Friday Night at the Movies
* Seniors & Law Together (SALT)
* Motor Coach Trips
* Sing-a-longs
* Lemonade & Laughter
* Learning/Education
* The Sartell-St. Stephen Community Ed Book Club
Below are Second Tuesday of the Month pictures of John Augustin speaking about the history of the Academy Awards.